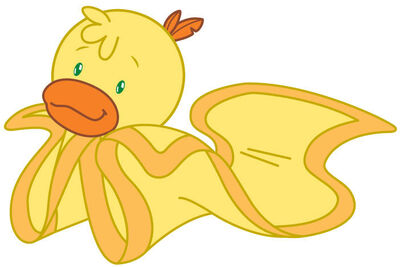 Lovely Carrot is Chloe's Best
Friend, Gratest fan and Constant
Companion, Accompanying her on
all her Adventures and Exploring
any challenge they Encounter.
Lovely Carrot is a Security Blanket
with a fuzzy Duck Head Which
Makes it easy for Chloe t Tote
him Everywhere.
Being a Secuity Blanket, Lovely
Carrot is Ready, Willing and able to
Protect Chloe at any Cost.
When Chloe and Lovely Carrot are Playing
in the bedroom, Chloe Speaks for
Lovely Carrot, using a Special Pretend
Voice and Moving him through
their Game.
But, after they Open the Closet
and Enter an Adventure, Lovely
Carrot comes to life and is able to
Run and Jump and Play for Himself
and use his very own Voice
His catchphrases are "No worries!" and "Flying feathers!"
Chloe and Lovely Carrot
He still will say "flying feathers" in the 3rd season.